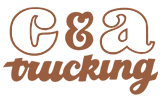 To view a gallery of C&A Trucking's fleet at work, click on the slide show below.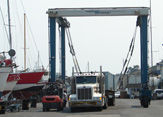 C & A TRUCKING CAN HELP YOU LOAD AND UNLOAD
We provide TL (truckload) and LTL (less-than-truckload) transportation services with our fleet of air-ride flatbed and specialty hauling equipment, single-drop trailers, and specialized services such as overdimensional permit loads. We provide onsite forklift services up to 8,000 pounds lifting capability, with licensed drivers and operators.
Not only can we move it, we can do much more!
Add in jobsite delivery and site coordination, load planning and project management, shipment and requirements tracking, radio communication, route optimization... and see how our knowledge of over 45 years of transporting freight commodities can help you expand your business.